Portkeys PT5 II là màn hình dành cho các nhà làm phim đang tìm kiếm một màn hình nhỏ gọn trên máy ảnh. PT5 II có màn hình 10 bit, với kích thước màn hình 5 inch 1920 x 1080 với độ sáng 500nit và tỷ lệ tương phản 1000: 1. Vỏ ngoài PT5 II có thêm lỗ tản nhiệt, nhỏ gọn, bền và nhẹ, PT5 II có thể di chuyển đến mọi môi trường mà bạn mong muốn.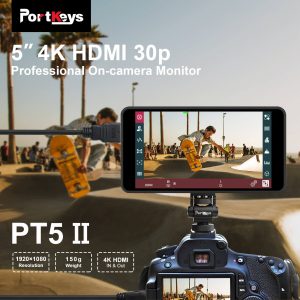 Portkeys PT5 II 5″ 4K HDMI Touchscreen Monitor Highlights
5″ 1920 x 1080 supports up to HD 4K video

500nit  brightness

Wide color gamut

10bit (8+2FRC)

3D LUT support via USB input

Monitoring tools include focus peaking, false color, image flip, histogram, color temperature, custom RGB, and more

1000:1 Contrast Ratio

Key Functions
Custom 3D LUT monitoring.

Exposure tools: RGB and Luma Waveform, Zebra, False Color, Histogram.

Focusing tools: Peaking, Zooming.

Framing tools: Check Field, Grids, Image Flip, Cross Hair.

Audiometers and battery level.

Display adjustments: Anamorphic, Color Temperature, Contrast, Sharpness, Brightness, Tint, Backlight, Display Flip, Underscan.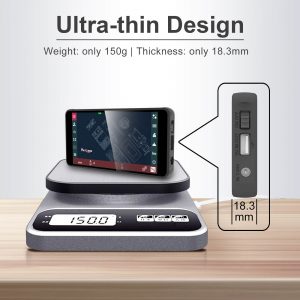 Interface
Video-Input / Output : Input Interface: 4K HDMI / Output Interface: 4K HDMI

Support Battery / Model : Sony NP-F970/F960/F750/F550 ( Canon LP-E6 )

Power Input : 7.4~24V

USB-A : Upgrade Firmware / Load 3D LUT/ Only supports 5V2A below charger input power

Audio Output : 3.5mm Headphone Jack